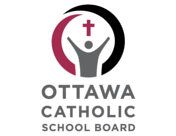 The Ottawa Catholic School Board (OCSB) offers international students the opportunity to study in a welcoming and diverse school community rooted in faith and values. We offer English as a Second Language (ESL) in all elementary (K-6) and intermediate schools (7-8) and have 5 secondary schools that offer ESL credit courses. We offer unique programs such as Focus Programs, Specialist High Skills Majors [ocsb.ca/shsm], and e-learning courses [ocsb.ca/elearning]. The OCSB takes an innovative approach to incorporating technology into our students' learning journey. Our Board was selected by the Canadian Education Association as the winning district to be an example for other Canadian school districts on digital transformation within education. Recently one of our Elementary Schools was awarded first place in the National "Classroom of the Future" Challenge based on innovative teaching and learning practices using technology.
Program Established: 2007
Programs Offered: Full Year, 1 Semester
Specialized Programs: French Immersion, Specialist High Skills Major, Cooperative education
Language(s) of Study: English
Total number of schools: 85 
High schools for international students (ESL): 6
Total Students: 40,000
Total International Students: 120-150
International Students Accepted for Grades: K-12
Nearest Airport: Ottawa MacDonald-Cartier International Airport (YOW)
The OCSB presents excellent opportunities for students from all over the world to excel in their pursuits. Staff members provide a learning environment where students are supported based on their individual needs. The OCSB looks to develop the whole student, from their academic pursuits to their responsibility as a global citizen. The culture of compassion and caring for all people runs throughout our schools. The OCSB is a safe and inclusive learning environment in which our international students can achieve academic excellence and student success.
The Ottawa Catholic School Board has partnered with MLI Homestay to accommodate international students.  MLI Homestay believes that international homestay experiences allow participants to emerge more knowledgeable and understanding about life abroad, and more confident of their own abilities and achievements. Participants will have an experience that will be one of the most valuable in their lives and return home with memories that last a lifetime.
MLI Homestay has placed thousands of students with caring host families across Canada. We love working with international visitors and host families to create an unforgettable experience.
Entrance Dates: September & February for 9-12. September for K-8 (sometimes flexible).
Application Deadlines: At least three months prior to start date
Application Fee: $400
Full Year Tuition Fee: $13,000 (K-8) $14,000 (9-12)
1 Semester Tuition Fee: $6,000 (K-8) $7,000 (9-12)
Annual Homestay Placement Fee: Prices set by MLI
Homestay Monthly Fee: Prices set by MLI
Annual Health Insurance Fee: $450
Annual Custodianship Fee: Prices set by MLI
All funds are in Canadian dollars